Notes From the Publisher
-by Andrew Goletz
Quite an interesting couple of months we've had here at the old site. We had our difficulties, but I think it's safe to say (crossing fingers) that it should be smooth sailing from here on out. **Note From The Webmistress**
We have two new columns beginning this week. Due to popular demand (I can't believe it, either), our own Jester from Crazy Wisdom will be spinning off into his own column called 'What's the Use of Getting Sober'. We're also happy to announce that Victor Destefano is making 'Hamburglar's Eye View' a regular part of the GHM columns.
What I'm most excited about (besides taking time off) is the premier of Hanzo, GHM's first online comic (displayed in the Art Gallery section), created by John Thayer Hill. The story will speak for itself. I encourage everyone to read the first look at this incredible work before you end up having to pay for it when a company snatches John up.
---

02.02.01 -- Comic Book Galaxy (www.comicbookgalaxy.com) announces a new, 35-week feature focusing on one of the most controversial comic book storylines in the history of mainstream comics.
THE LIFE OF REILLY will look at the past, present, and possible future of Ben Reilly, the clone of Peter Parker that dominated the Spider-titles for much of the latter half of the 1990s and was perhaps the most controversial Spider-Man storyline ever.
The Galaxy's ANDREW GOLETZ (creator of GrayHaven magazine at www.grayhavenmagazine.com) will co-write the column with former Marvel Comics writer and editor GLENN GREENBERG. In a week by week analysis, they'll review the entire Clone Saga, talk to the creators behind the comics and look at why Ben Reilly is so well-remembered by his fans. THE LIFE OF REILLY is not just a look back or review of the issues, but an in-depth analysis of the storyline complete with commentary by the people in the trenches at the time.
---
So here's what else we have going on:
· An Interview with Andi Watson, creator of the best mini-series of 2000, 'Breakfast After Noon'
· An Interview with Mike Pawuk, the innovative librarian who's come up with a fantastic idea you must read about
· All new columns by Alysha, Barry, El Dub and the Princess, Victor and myself
· The first installment of Jester's 'What's the Use of Getting Sober'
· New Poems and New Stories, oh my!
· Another heaping, helping of wackiness with the latest Crazy Wisdom in our Humor section
· Tom Grozan's 3rd Volume of 'Ear Candy' in the Music section
· Your first look at Hanzo
· And much, much more…
So click around and check it out. And don't forget to let us know what you think!
Note: As of this update, I'll be taking a leave of absence to concentrate on our new baby. I'm as excited as one would imagine and I want to devote some time away from here to concentrate on the family a little more. It's not a permanent leave, however. I intend to be back, pulling the strings before May, if all goes well. In my absence, webmistress, Carrie Michael and columnist/diplomat, Barry Wolborsky will be running the show. Wish them well. They'll need it.
-andrew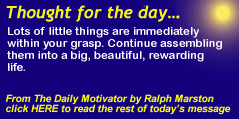 <