-by Andrew Goletz
Rating: 9 of 10
With all due respect to Paul Jenkins and Warren Ellis, new Hellblazer scribe Brian Azzarello has done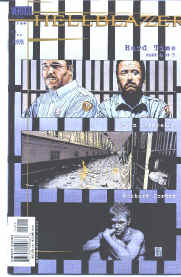 something that hasn't been seen since Garth Ennis: He's put the 'Hell' back in Hellblazer.
Arguably the greatest character in comics, John Constantine finally has his edge back. He lost some of his smug-ness, and some other qualities that made him the bastard that we knew and feared at the end of Ennis' 'Rake at the Gates of Hell' storyline. There were moments of brilliance scattered throughout-out the post Ennis/Dillon run with Jenkins and Ellis contributing some good stories during their tenures on the book. Often, though the balance shifted to the mundane or supernatural and a 'lets see how we can shock the readers' next rather than concentrate on Constantine himself.
Now it seems that Hellblazer and John Constantine are in the hands of someone who knows how to fuck with the readers in just the right way, and that someone is Brian Azzarello. Azzarello, writer of the wonderfully original 100 Bullets (also by DC/Vertigo), has taken Constantine and twisted him inside out and put him back where he belongs. In this case, it was prison.
'Hard Time' is the first story arc under Brian Azzarello's hand. The five part story begins with John Constantine in a maximum security prison. How did he get there? We don't know yet, and we don't care. Constantine has faced off against vampires, evil spirits and the devil himself, but never has his confrontations seemed more horrifying than when he is forced to deal with hardened criminals, ghosts from his past and corrupt prison guards.
We're back to classic Constantine with this arc: earnest cockiness to start, followed by a series of horrible setbacks and ending with a surprising yet gratifying triumph by our anti-hero. 'Hard Time' lets us see some of the most disturbing setbacks and victories that Constantine has been through in quite some time, including the very real horror of possible nicotine withdraw, and it's a welcome relief.
Few comics now stay with you in the forefront, or even the back of your mind after you're done reading them. Once upon a time Hellblazer had that effect, and I'm happy to see that it's having the same effect now.
If you're familiar with John Constantine, you have a pretty good idea how this storyline will end. To his credit, Azzarello has been nothing short of brilliant in his inventive cruelty perpetrated against the characters leading up the climactic finale in Hellblazer #150. From the haunting covers by Tim Bradstreet, to the incredible writer/artist team of Brian Azzarello and Richard Corben, 'Hard Time' is an instant classic. With it's new writer in place and fitting into the book like a glove, it seems that Hellblazer stands ready to be the anchor Vertigo book once again.
Available Monthly from DC/Vertigo